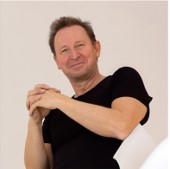 Design: Martin BALLENDAT
 Martin Ballendat was born in Bochum, Germany in 1958. He studied Industrial Design at the university Folkwangschule in Essen.
1983-1986 designed for the company Sedus, Waldshut, till 1995 was head of the department design and product development for the company Wiesner Hager in Austria. He is the owner of two studio's located in Germany and in Austria, where together with 16 staff members leads the independet design studio.
He designed for more than 30 well known brands in 13 countries and for more than 15 years was lecturer and visiting professor at the university of applied sciences in the field of design in Graz and Salzburg. Is the winner of 100 awards in the field of design.